Registrar ATL Summerville
Trident Medical Center - Charleston, South Carolina
Job Code: 08591-144960
Full-time
Evenings (rotating weekends)
Are you interested in furthering your career in healthcare and patient access? If so, we can help you realize your professional potential in our registration department as a Registrar. All you have to do is to apply right now!
GENERAL SUMMARY OF DUTIES - Responsible for timely and accurate patient registration. Interviews patients for all pertinent account information and verifies insurance coverage.
Duties (included but not limited to):
Interview patients at workstation or at bedside to obtain all necessary account information. Bed-side registration performed utilizing carts/computers on wheels

Follow AIDET guidelines in all interactions with the patient

Provide exemplary Customer Service

Ensure charts are completed and accurate

Verify all insurance and obtain pre-certification/authorization

Calculate and collect patient liability amounts

Ensure that all necessary signatures are obtained for treatments

Answers any questions and explains policies clearly

Process patient charts according to paperwork flow needs and established productivity standards

Welcome patient and family members in a professional manner. Contact the nursing staff for emergency medical needs and answer patient and visitor questions

Interview incoming patients, his/her relatives, or other responsible individuals to obtain identifying and demographical information with insurance and financial information

Assign Insurance Plans (IPlans) accurately

Search MPI completely and assign the correct medical record number. Notify HIM for any duplicate unit numbers

Verify insurance benefits and determines pre-certification/authorization status via on-line or other resources. If pre-certification/authorization/notification of admission is required and has not been obtained, initiate via Passport, on-line or phone call. - Enter all information and authorization/referral numbers into the registration system.

Secure all signatures necessary for treatments, release of medical information, assignment of insurance benefits, and payment of services from legally responsible parties. Obtain copies of necessary identification and insurance cards.

Understand/explain policies regarding services, pricing, insurance billing, and payment of account. Request full or partial payment for services rendered according to collection policies.

Follows all guidelines set forth in the Cash Handling policy. Produce paperwork on each patient for distribution to appropriate departments.

Cross-trained to register patients in any registration area

Work with physician offices and ancillary departments, providing information when necessary or forwarding relevant documents

Scan appropriate order in Front Office Scanning.

Escort patient to his/her destination or refers patient to an available transporter

Activate all pre-registered patients that have reported service
Activate all pre-registered patients that have reported for service

EDUCATION
High school diploma or GED required
EXPERIENCE
At least one year of patient registration experience preferred
At least one year of customer service experience required
PC Skills – demonstrates proficiency in Microsoft Office applications and others as required
Basic skills – demonstrates ability to organize, perform and track multiple tasks accurately in short timeframes, have ability to work quickly and accurately in a fast-paced environment while managing multiple demands, ability to work both independently and collaboratively as a team player, adaptability, analytical and problem solving ability and attention to detail and able to perform basic mathematical calculations, balance and reconcile figures, punctuate properly, spell correctly and transcribe accurately
PHYSICAL DEMANDS / WORKING CONDITIONS
Work is performed in an office environment or hospital setting. Requires prolonged sitting/standing for long periods of time (depending on the duration of the shift, this could be 7-10 hours), some bending, stooping, walking and stretching. Requires eye-hand coordination and manual dexterity sufficient to operate a keyboard, photocopier, telephone, calculator and other office equipment. Requires normal range of hearing and eyesight to record, prepare and communicate appropriate reports or other information. Requires lifting papers/boxes and pushing/pulling up to 25 pounds occasionally. Pushing computer cart on wheels while registering
Last Edited: 02/19/2018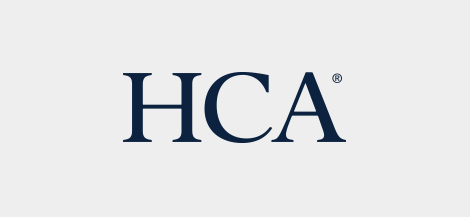 HCA is committed to the care and improvement of human life and strives to deliver high quality, cost effective healthcare in the communities we serve.
Learn more about HCA